Frequently asked questions
---
Introduction
Listed below are frequently asked questions (with solutions) from our FMRTE users.  If you have any questions or feedback, do let us know and we will do our best to keep the FAQs relevant and up to date.
Software
Q) I am having issues with downloading the software.  My anti-virus will not let me download it or the downloaded file is invalid.
A) There are sometimes issues with various anti-virus software that flag FMRTE as being suspicious and will not allow you to download it.  This is a false positive and FMRTE does not contain any viruses, malware, spyware, etc.  Allow the download through your anti-virus by enabling downloads from FMRTE and make sure your anti-virus remembers this action or you will keep experiencing the same issue.
Q) How do I edit prize money in a competition?
A) First select the league in question to be playable at game start.  If you don't do this, you cannot edit it.  When you look at the league you want to edit, as per the screenshot, you will see the prize money tab.  Edit as you wish, save and move the game forward for the changes to apply in game.  Please note some leagues are hard-coded and cannot be edited but that is very few indeed.
One nation that this applies to is Spain so you can address this by adding prize money to it using the pre-game editor.  You need to edit the prize money in the League Setting tab via Advanced Rules (It will be greyed out.  Tick the grey box and then edit the money accordingly).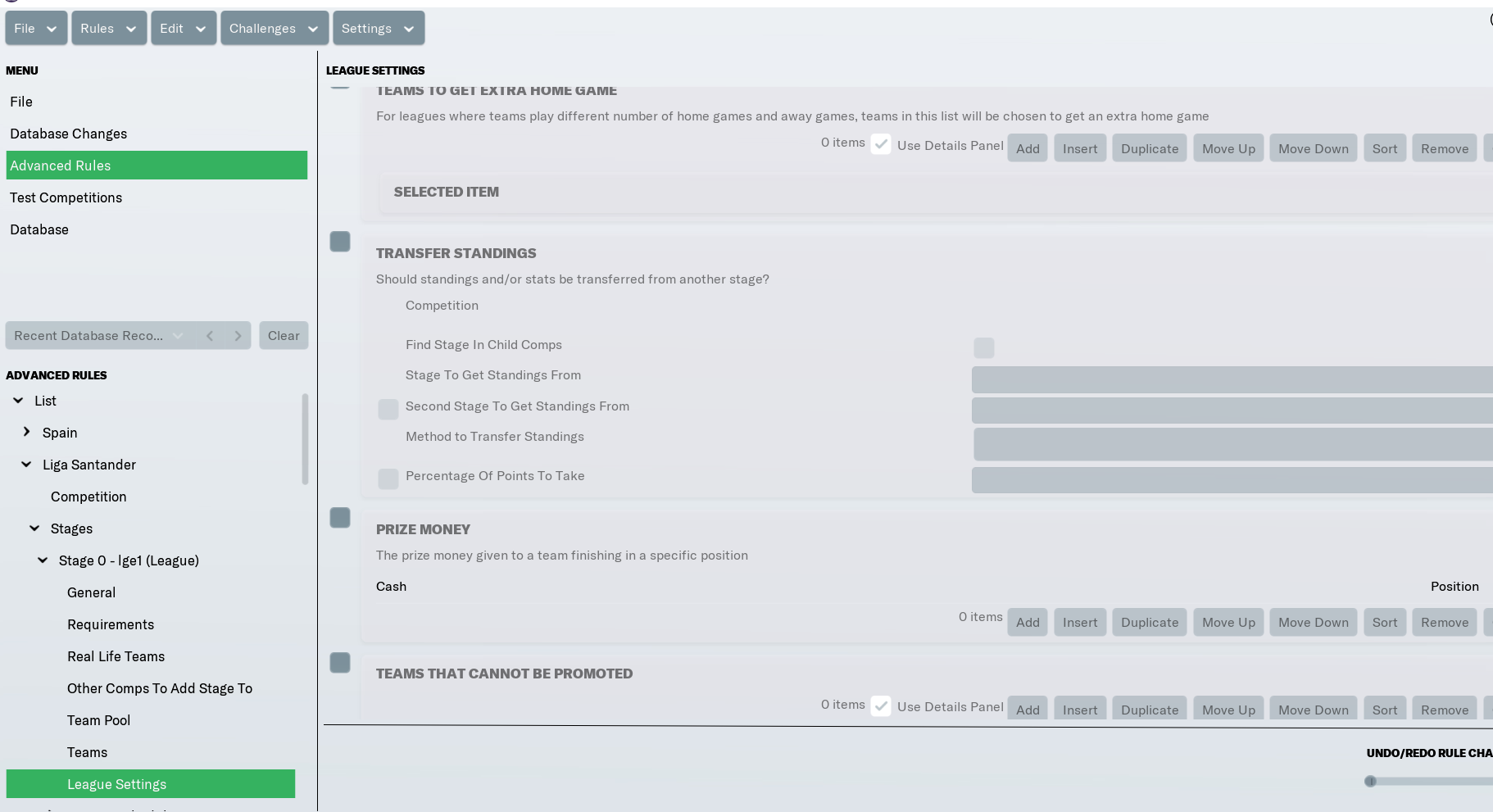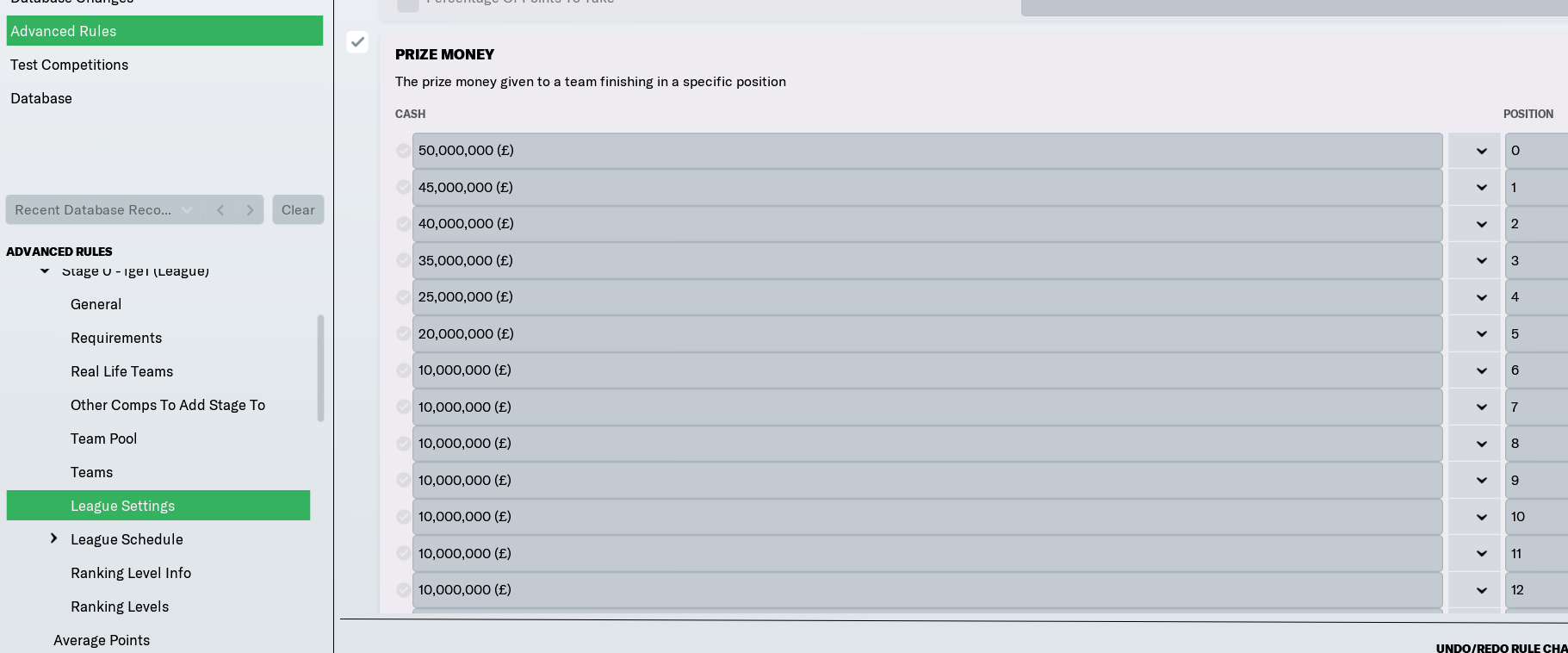 Once you have done this, you can then edit this in game at any time using FMRTE i.e. screenshot showing La Liga with prize money added in pre-game editor.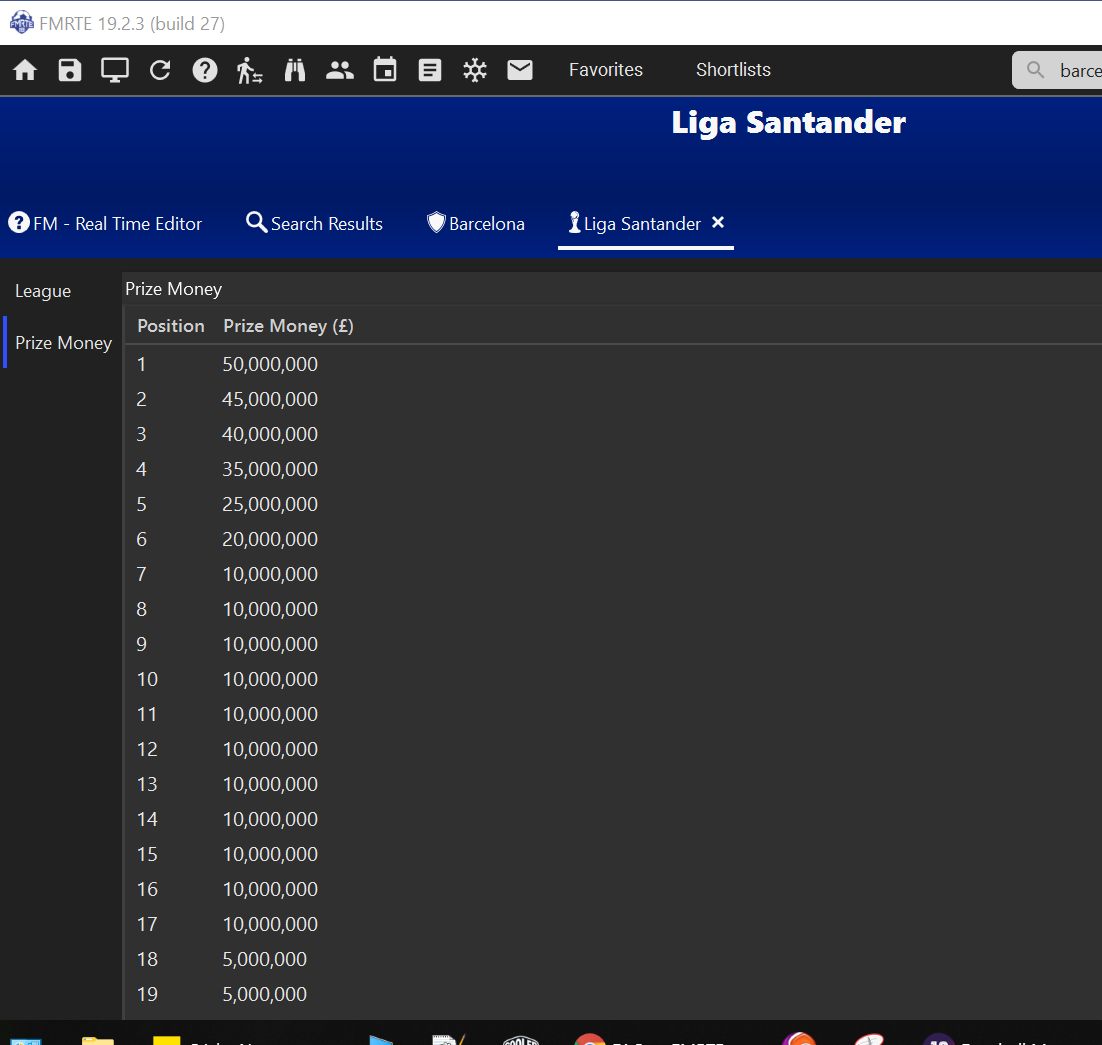 If you are using a custom-built league structure/competition, make sure you have added/enabled prize money via the Advanced Rules in the pre-game editor and then you can edit it in game too.
A good tip is to check the league update date for the league in the pre-game editor and if you intend to amend the prize money during a saved game, it is better to do it on that date when the game generates a new season and therefore avoid any conflicts that can lead to crashes etc.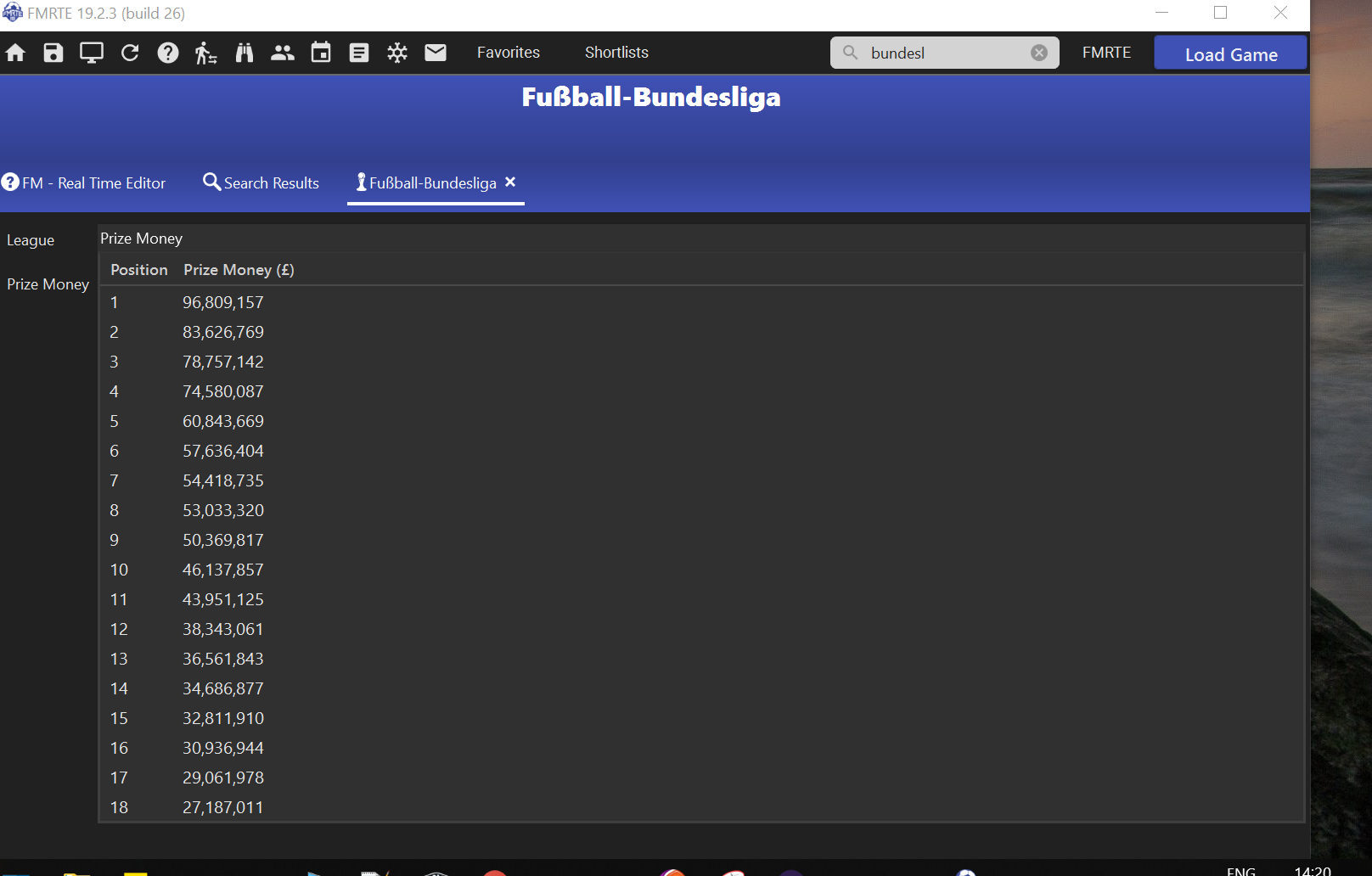 Q) FFP issues?
A) This is a regular question and one that is addressed in the forums if you use the search function you will find many threads on this.  However searching for FFP returns a zero result, so use the term financial or fair play.
The issue is not resolved by giving a club lots of £££££ to its balance/transfer budget/wages etc.  It's done by generating income so you need to get those sponsorship deals edited/added asap.  Also look at prize money in competitions, and to a lesser extent season tickets/stadium capacity etc.  Be aware some FFP rules set a maximum wage increase per season, so even if you are doing well financially, you can still fall foul of FFP.  The best option is edit/remove these rules pre game, it's simple and easy to do.  You can see these rules in your saved game under the League Rules if you want to check them to be sure what they are.
NB You need to be proactive to avoid FFP penalties.  Remember most FFP rules are based over 3 years so when you start a save, act straight away.
Q) How do I attract better players/staff to my club?
A) This has been asked many times where users have given a lower rated club lots of money and a sugar daddy yet still cannot attract better players.  Obviously you have to be realistic, a non league club with a multi billionaire owner still isn't going to attract a Messi/CR7!!  However some pointers are to set the club to professional, give the club good facilities/coaches/stadium and a much higher rating in all categories also set owner/chairman to ambitious.
Also obvious things like in their relation tab set them to like you and your club. Also lower their ambition to 1(if you are at a perceived lower club)
If it is a staff member who has high Manager rating in his role attributes,
set that to low  i.e. 1 and increase the role you want him to take up to the max 20
If all fails you can use swap staff/player option to get them to your club instantly.
Q) How can I use presets on selected players, not just a whole team?
A) Using ctrl+right click on the mouse allows you to select several items in the list so rather applying the preset for the whole team, you can now with custom presets mass edit selected players.
The screenshot below shows healing of just the four selected players.  Right click on any of the four selected players and a menu is generated containing your preset options.  Select the correct preset and save 😉.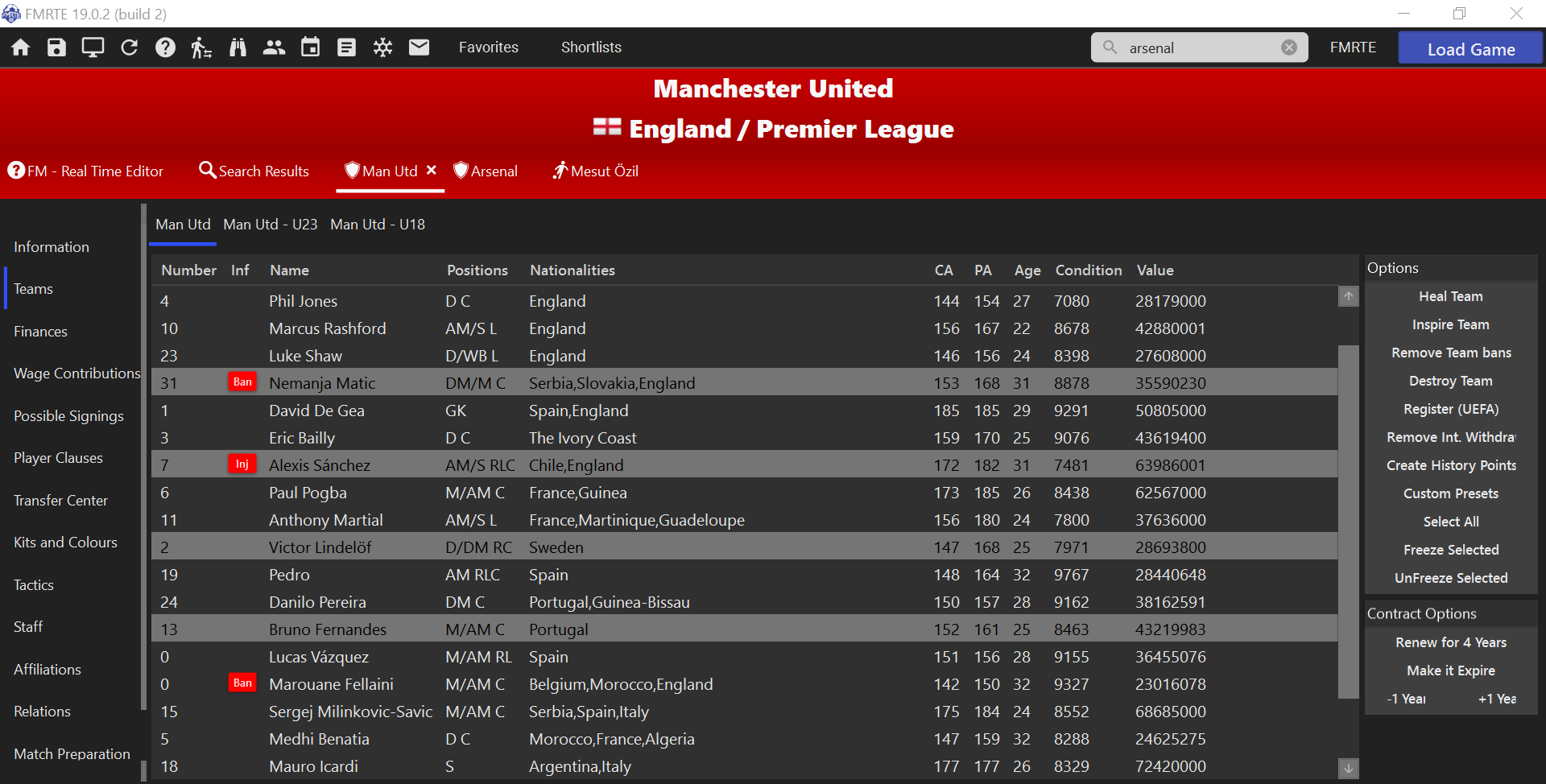 Here is how a ban player preset would look:
Q) How can I make a player stay at a club?
A) This is a superb workaround that I have trialled in FM18/FMRTE 18 and works perfectly in FM19.  Let's call it making a player untransferable 😁.
My initial suggestion was I would love the option for a player to stay at his club for his career i.e. Harry Kane at Spurs so he would never be sold no matter if the club accepted bids for him.  Many thanks to @agent007 who said this can be done by giving the player a Future Joined Date in the Contract options or you can also use his Contract Start Date by giving it a Future Start Date.
The test:
I have given some bang average player in a lower league a joining date well in the future (the player had joined in 2007 but I changed it to 2023 and his contract start date too)
and had taken over Man City as manager.  Bid for him and obviously the club accepts my bid.  The player is utter crap
.
However the player refuses to enter into contract negotiations as he states has only just joined his current club which obviously it seems to work as he joined 10 years ago and now has a chance to join a top EPL team and he is not interested.  So this means if you do this to say Kane at Spurs no matter how many accepted offers come in, he refuses to move.  I have tested this over 10 years in game in FM18/19 and it is 100% working.  A big thanks goes to @agent007 who IMO should be the new James Bond when Daniel hangs up his boots 😉.  There is another option which works.  Give the player a future transfer say 10+ years ahead.  This way he stays at his club until then, and cannot be sold.
Q) How can I get my owner/chairman to sell the club?
A) Lower the Chairman status to 1.  This will force a takeover pretty quickly, usually within 2 weeks.  It is not guaranteed you will get a tycoon takeover unless you have set this up pre-game, which can be easily done via the LNC/EDT files (Take a look in the editors forum SI for full details) here
Be aware when it's your club, you will go under an imposed transfer embargo whilst negotiations are ongoing but it is completed pretty quickly, so common sense says do it when the transfer window is closed.  If you want to play dirty, do it to a rival club during the transfer window but it could backfire if they get a tycoon takeover 😉.
Q) Brexit has occurred.  How can I reverse it?
A) You can reverse this by using the Agreements tab drop down menu and select European Union.  Remember Brexit will impact all the Home Nations, not just England.  You can also remove Brexit totally from the game using the pre-game editor by opening the Advanced Rules for England, scrolling to Agreements and remove the Brexit section totally.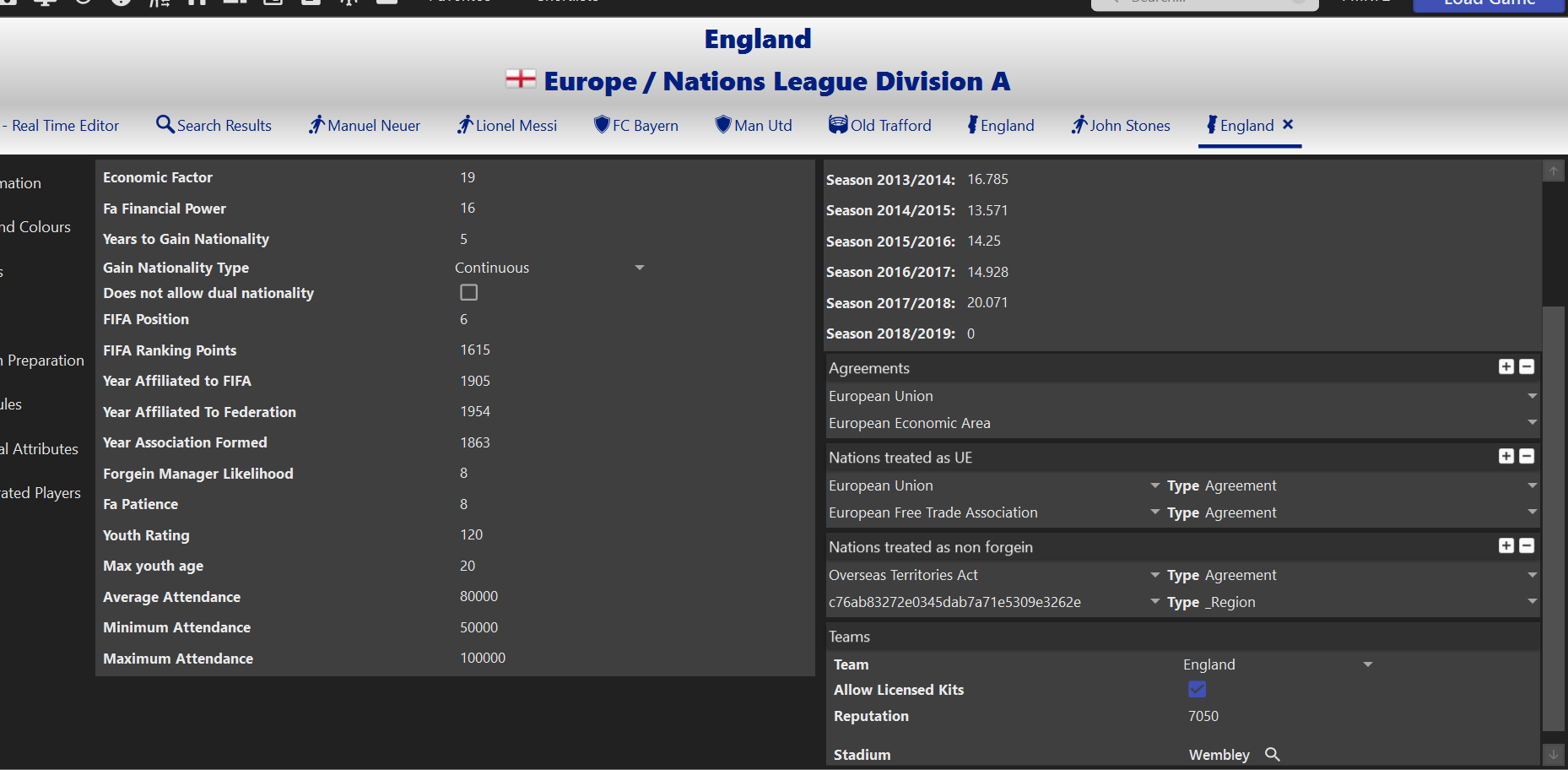 Q) How do I make a preset?
A) Presets are custom made actions that FMRTE will execute.  A Preset can have a lot of actions that FMRTE will execute when you select to run that preset. You can have different Actions Types in the same Preset.  Presets can be applied in two ways:
You can execute a preset in the Favourites Menu, this way, the preset will be executed, and the affected objects are those whos ID are specified.

Applying to an item or group of items in the search results, by pressing the right mouse button.

Preset Manager - Instructions
 

Object ID: Put this field at 0, or if you want to create a preset to change a specific player/staff/team/club, put here the ID of that item (player, staff, club, etc).  NOTE: If the Action Type is a Team/TeamPlayers/TeamStaffMembers, in this field you should put the CLUB ID of that team.

Team Number: This attribute is used to select the team that you want to affect i.e. if you select the type "TeamPlayer" and the attribute "CA", you put "0" as Team number, the preset when executed will affect all players in the First Team of that club (TeamNumber = 0 => 1st Team, 1 => Next Team.  The team order is the same that appears in Club's Information).

Attribute: This field specifies the attribute(s) that you want to change.

Value: This field specifies the value that you want to put in the Attribute field that you have selected.

Action Types:

Player - Using this type, the action will only be applied if you select a player or a group of players (if you apply the preset to a team, this action will not be executed).

PlayerStaff - Using this type, the action will only be applied if you select a player (with staff att) or a group of players (with staff att) (if you apply the preset to a team, this action will not be executed).

Staff - Using this type, the action will only be applied if you select a staff member or a group of staff members (if you apply the preset to a team, this action will not be executed).

Club - Use this type to change attributes for clubs.

ClubStaffMembers: Use this if you want to change the attributes of all staff members in a specific club (you don't need to specify the Team number).

Team - Use this type to change team attributes.

TeamPlayers - Using this type, the action will only be applied to a team.

TeamStaffMembers: Use this if you want to change attributes of staff members of a SPECIFIC TEAM (as a club can have more then one team, first team, reserves...).  You must specify the Team number in the field "Team Number".  The Team Number starts at 0 (0 means the Club first team).
It may sound complicated, but it is really simple to do.  The best way is just give it a go, back up your save before hand just to be safe.  If you are not happy with the preset(s) you created, you can just remove it from the Presets folder within the installed BraCa Soft folder.  The best thing to do is take time and experiment and tweak your created presets to your needs.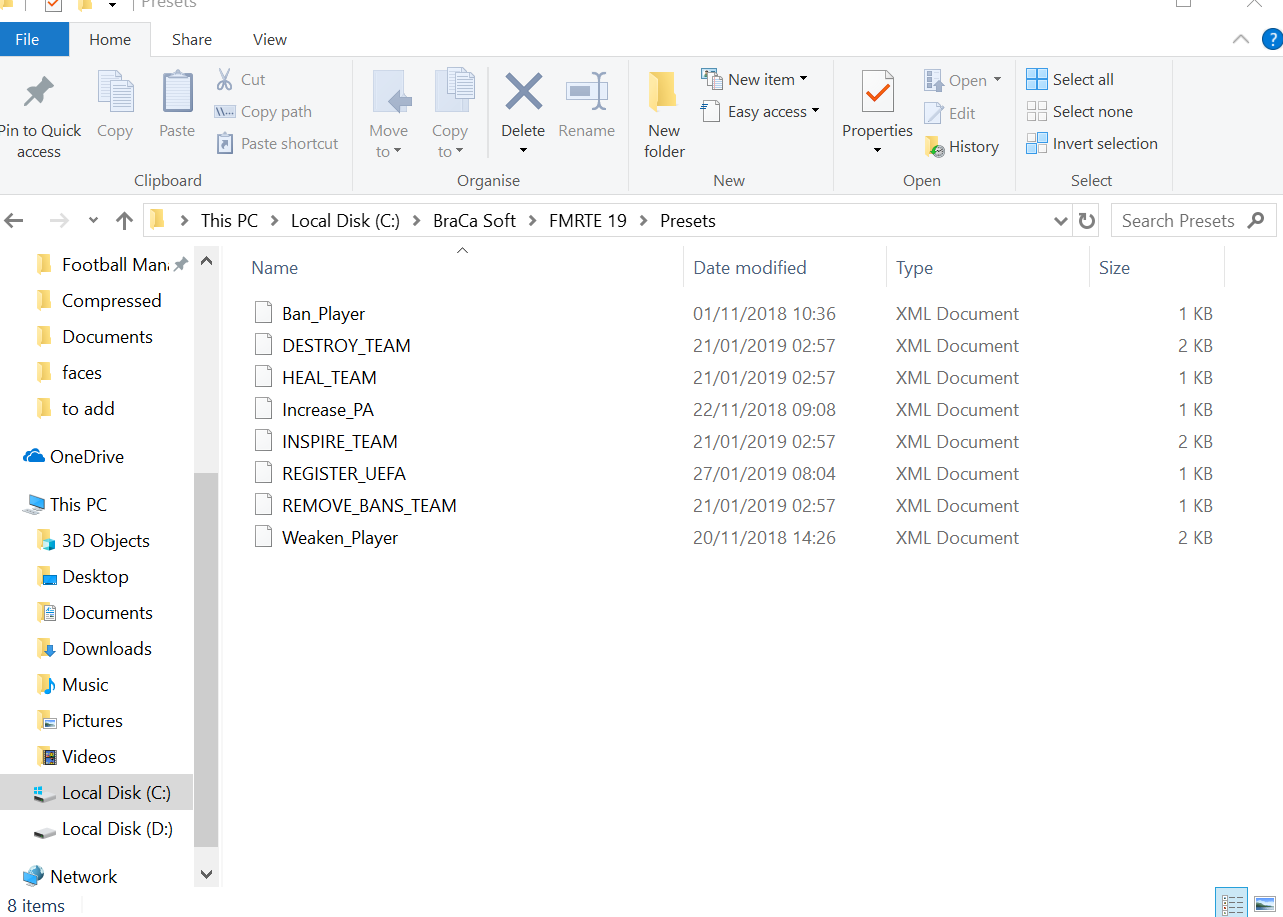 Q) I have a question regarding an issue with the product.  Where do I post?
A) There are several forums and they are self explanatory, the main forums are Windows/Mac and are for the current versions only.   If you are using older versions of the product then post in the Archive section of the relevant platform.  Make sure you following the posting etiquette in this link.
Q) I have come across a bug/possible bug.  What do I do?
A) There are 2 bug tracker forums.  You can find the bug tracker forums on the forum homepage.  Submit any bug/potential bug with the current version in the main forum, and issues with older versions to the Archive sub forum accordingly.  Please note all issues with bugs are dealt by the developers.  They need to be posted nowhere else in the forums.
Submit as much information as possible using screenshots and any error logs in your report as this can speed up the resolution of your issue.  Please exercise patience as some bugs can be user specific and do not replicate for staff here.
Q) How do I edit league tables?
A) Search for the league/competition you want to edit.  The league/nation has to be selected as a playable on game set up in FM.
In the example, click on a number you want to edit, change the value then save the change(s).  Please note the changes will not take effect in game until the next round of matches in that competition, and make changes to the league tables before it is too late to influence the final table e.g. once a team has already won the title/been relegated etc it can be too late to edit the table then.
Q) Is there a guide for FMRTE?
A) Yes, there is a guide that cover most of FMRTE's features.  Click on this link to be transferred to the guide.  There are also help guides the developers are working to add to the forum.  This can be found at the top of the forum homepage.
Q) How do I remove players from the Freezer Manager?
A) Navigate to the Frozen Players folder in the installed BraCa Soft folder, and delete everything.  This must be done with the software closed.
Licensing
Q) Any licensing issues?
A) Follow this link which explains what to do.  This covers every and all licensing matters including purchasing, activations, etc.  It is all carried out via your client area and not in any of the forums.  In your client area, you will also see offline activation which included a video on how to activate your license.
Q) I have three licences.  How many people can use them?
A) To clarify, the license is for one person only.  You are not allowed to share with anyone.  If anyone has any doubts, fully read the end-user license agreement.